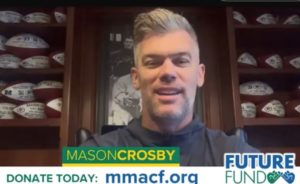 Click on the picture to hear what Mason has to say!
The Future Fund is a children's savings account initiative established and run by the M&M Area Community Foundation.
A $50 savings account has been established by the Community Foundation for each kindergarten student, beginning with the 2019 – 2020 school year.
The Foundation's support does not end with kindergarten – each year until graduation the Foundation will add more money to every child's Future Fund savings account.
For both first and second-grade students, the Community Foundation added $5/year.  An additional $10 was added for third-grade students.
Future Fund savings accounts may be accessed upon graduation to assist with expenses related to career training or post-secondary education.
Your contribution, in any amount, is needed to realize the goal of providing additional financial incentives during every year of a child's K-12 education, as well as to continue the program for years to come!
Family Informational Letter
Where will my feet take me?
Press Release - Financial Literacy in Goodman
Press Release - St. John Paul II School Fundraiser
Press Release - Teacher Incentive Program
Press Release - Recognition
Press Release - Enstrom Helicopter Contribution
Press Release - Business Leaders Support Future Fund
Bay Cities Radio Interview