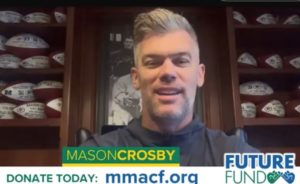 Click on the picture to hear what Mason has to say!
WHAT IS THE FUTURE FUND?
The Future Fund is a children's savings account program established and run by the M&M Area Community Foundation. 
A $50 savings account has been established by the Community Foundation for each kindergarten student, beginning with the 2019 – 2020 school year. Accounts have been established at Nicolet Bank, Peshtigo National Bank, or Stephenson National Bank & Trust, depending on the school.
The Community Foundation's support for your child does not end with kindergarten – each year until graduation we will add to your child's Future Fund savings account.

For 1st and 2nd grade students the Community Foundation adds $5 each year.
For 3rd and 4th grade students the Community Foundation adds $10 each year.
Donations for future grades are dependent on the community support we receive!

Upon graduation, Future Fund savings accounts may be accessed to assist with expenses related to career training or any post-secondary education.
SPECIAL NOTE: If your child was previously in a school which does not participate in our Future Fund program, the Community Foundation will establish a savings account for them and will deposit money to equal the amount of their classmates.
Your contribution, in any amount, is needed to realize the goal of providing additional financial incentives during every year of a child's K-12 education, as well as to continue the program for years to come!
Family Informational Letter
Where will my feet take me?
Press Release - Financial Literacy in Goodman
Press Release - St. John Paul II School Fundraiser
Press Release - Teacher Incentive Program
Press Release - Recognition
Press Release - Enstrom Helicopter Contribution
Bay Cities Radio Interview